Analyst Summary: Today marks just under two months since Hain Celestial said it could not timely file its 10-K due to accounting issues. While some hold onto the notion that HAIN's accounting issues will soon enough pass, they won't. We forecast the road ahead for Hain Celestial travelers will be worse than many expect. They may wish to stock up on some calming Chamomile tea.
New data now in hand confirms the SEC is investigating Hain Celestial, which does not surprise us in the least. Just that disclosure from the company alone, if it comes, could rattle investors. But that won't be the end of the bad news we expect looms over the horizon for HAIN.
According to the company, HAIN's problems are related to revenue recognition. When a company of HAIN's size experiences accounting issues of the scale sufficient to delay an otherwise routine SEC filing by two months (and still counting), the underlying cause is usually much worse than investors recognize and/or management lets on. The investigations, internal and external, usually take longer than expected. As previously used accounting conventions or corporate behaviors are reined-in, earnings outlooks start coming under pressure. Revenue recognition is also the number one cause of restatement. We say you should expect all of the above.
To us, the disclosures suggest channel stuffing. That inventory has to be worked off, often with discounting. For those hitching their hope to the company's claim that total revenue will not be impacted, even if timing of "certain transactions" is, we point out HAIN doesn't sell truck parts with a long shelf life. They sell commodity food items, many with relatively short shelf lives. If no one buys the 'fresh', 'organic' or whatever food item before it rots, all you're left with is a disposal expense.
To access the full report, click on the PDF (only visible to subscibers who are logged-in).
To learn more on our process and what our findings mean, click here.
Notes: The SEC did not disclose the details on investigations referenced above. The SEC reminds us that its assertion of the law enforcement exemption should not be construed as an indication by the Commission or its staff that any violations of law have occurred with respect to any person, entity, or security. New SEC investigative activity could theoretically begin or end after the date covered by this latest information which would not be reflected here.
Better Disclosure for Better Decisions.®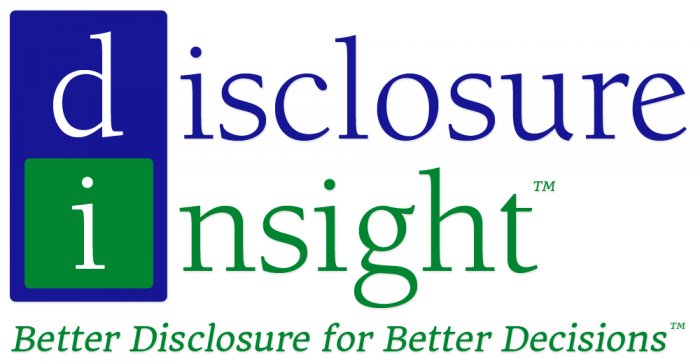 Our Disclosure Insight® reports provide commentary and analysis on public company interactions with investors and with the SEC. They are heavily reliant on our expertise with using the Freedom of Information Act.